Republic Battery Online
Regular price
Sale price
$99.95
Unit price
per
Sale
Sold out
Introducing the DC24 battery from Republic Battery, the perfect solution for all your deep cycle needs. This maintenance-free, deep cycle, group size 24M battery is built to last with wet cell design. With a powerful 540cca and 675mca, this battery provides reliable and consistent power to keep your devices and equipment running smoothly.
Featuring an impressive 130 reserve capacity, the DC24 battery ensures that you have ample backup power in case of emergencies or unexpected downtime. And with a 1-year warranty from Republic Battery, you can rest assured that you're making a smart investment in a high-quality product.
At Republic Battery, we've been providing reliable and durable batteries since 1946. Our commitment to quality and customer satisfaction is second to none, and we're proud to offer the DC24 battery as the latest addition to our lineup of exceptional products.
Whether you're powering a boat, RV, or other equipment, the DC24 battery is the ideal choice for anyone who demands high performance and reliability from their batteries. Order yours today and experience the peace of mind that comes with using the best!
Share
View full details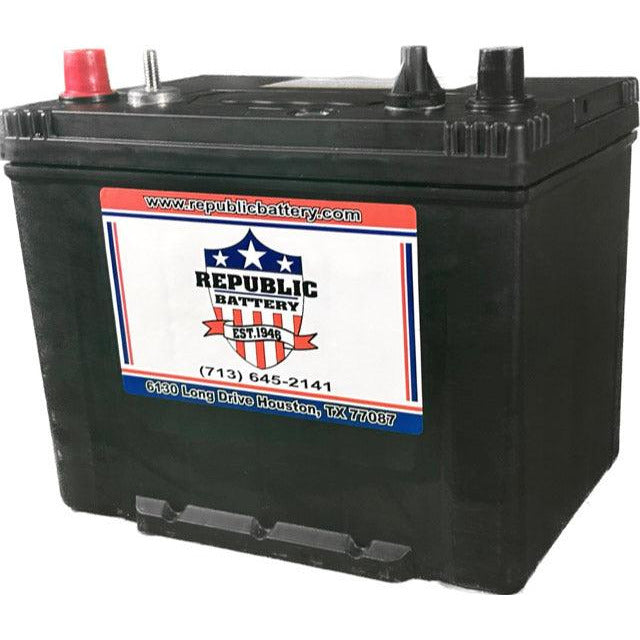 Commercial Grade Marine Batteries
Highlights

Introducing the marine battery line by Republic Battery - a family owned and operated business since 1946. Our marine batteries are designed to provide reliable and long-lasting power for all your marine needs.

With decades of experience, we have perfected the art of sourcing batteries that withstand the harsh marine environment. Our marine batteries are made with high-quality materials and are rigorously tested to ensure they can handle the demands of marine use.

Our marine battery line features a range of battery sizes and types, including starting batteries, dual-purpose batteries, and deep cycle batteries. Whether you need a battery for your small fishing boat or a large yacht, we have the perfect battery to meet your needs.

Our marine batteries are designed to provide excellent performance and reliability, even in the most challenging conditions. Our AGM batteries are built to withstand vibration, shock, and extreme temperatures, making them the ideal choice for all your marine needs.

At Republic Battery, we take pride in providing our customers with the highest quality batteries and exceptional customer service. Our marine battery line is backed by a 1 year warranty, so you can have peace of mind knowing that your investment is protected.

Choose Republic Battery for all your marine battery needs and experience the reliability and performance that comes with decades of experience in the battery industry.
Warranty Options

At Republic Battery, we stand behind the quality of our products and are committed to providing our customers with the highest level of satisfaction. We are proud to offer a 1-year warranty on our line of marine batteries.

Our warranty covers any defects in materials or workmanship that may occur during normal use of the battery. If you experience any issues with your marine battery within the first year of purchase, we will replace it free of charge.

The warranty process is extremely simple. If you are having an issue with your battery, bring it by our centrally located store front at 6130 Long Drive, Houston, TX 77087 for a diagnostic check. If you're battery is bad, we will swap it for you at no charge if it is within the warranty period.

Please note that our warranty does not cover damage caused by misuse, abuse, or neglect of the battery. It also does not cover normal wear and tear, or any damage caused by accidents or natural disasters.

At Republic Battery, we take pride in providing our customers with high-quality marine batteries that are built to last. Our warranty is a testament to our commitment to quality and customer satisfaction, and we are confident that you will be completely satisfied with your purchase.
Availability

In-store pick up available at Republic Battery, 6130 Long Drive Houston, TX 77087. Wet cell batteries are not eligible for shipping, but may be eligible for local delivery.

Online inventory may not reflect actual in-store availability, so if a product shows to be low or out of stock you can call us at 713-645-2141 or email sales@republicbattery.com for more information.
A 4th Generation Family Owned and Operated Establishment
- Est. by Charlie Koupa, 1946-